Back to news
We are delighted to announce the opening of our World Cup 2022 Fantasy Football Games! The contests will be played over 7 Gameweeks – starting on the 20th of November 2022 – ending with the World Cup Final on the 18th of December 2022.
Progressive minimum guaranteed prize pool
The prize pools for the two tournaments are set with a minimum guarantee of €57,500 (Single entry) and €115,000 (Main Event) but can grow above and beyond that, as it's a progressive prize pool – this means once the minimum guarantee has been met, it will continue to rise with each new entry until the start of the tournament.
Diligent player prices
Furthermore, player prices have been diligently set to ensure more players are viable for team selection. This should all lead to one of the most exciting and prestigious fantasy football events we've ever offered on the Scout Gaming Group Network.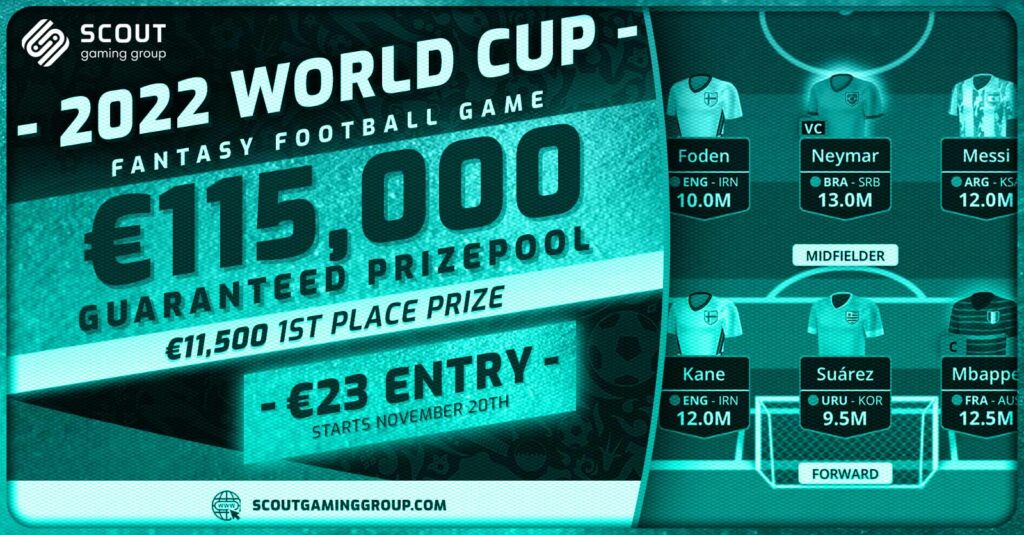 Tournament Information
Two tournaments: Main (€23 – €115Κ) + Single entry (€5.75 – €57.5Κ)
Top 17% paid – At least 10% for 1st place prize
Full tournament (all the way to the final)
Classic 11 format (no bench)
2 Free Transfers per GW -> increased to 3 for Semifinals & Final (GWs 6 + 7)
One enforced wildcard on GW5 (Quarterfinals)
Budget 90M -> increased to 95M on GW5 (Quarterfinals, when the wildcard is activated)
Safety net is enabled
No Late Registration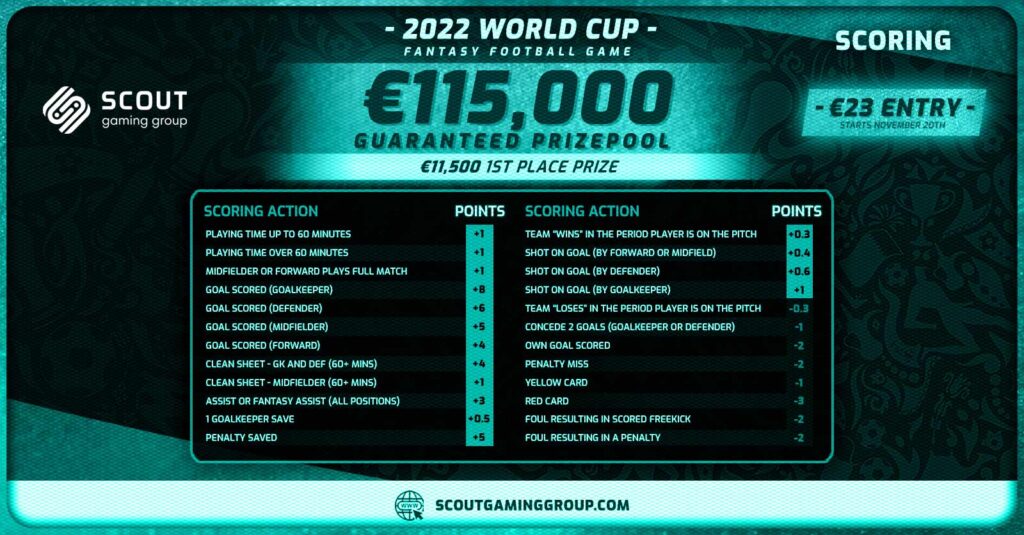 Gameweeks & Deadlines
Please see below the dates and deadline times for each of the 7 Gameweeks in this tournament. The gameweeks consist of 3 rounds of group stage matches and four knockout rounds, starting with the round of 16 up to the final. Please note that the match for 3rd place will not be included.
Gameweek 1 (Group stage): 20th – 24th Nov – deadline: 17:00 CET 20/11/22
Gameweek 2 (Group stage): 25th – 28th Nov – deadline: 11:00 CET 25/11/22
Gameweek 3 (Group stage): 29th Nov- 2nd Dec – deadline 16:00 CET 29/11/22
Gameweek 4 (Round of 16): 3rd – 6th Dec – deadline 16:00 CET 03/12/22
Gameweek 5 (Quarterfinals): 9th – 10th Dec – deadline 16:00 CET 09/12/22
Gameweek 6 (Semifinals): 13th – 14th Dec – deadline 20:00 CET
Gameweek 7 (Final): 18th Dec – deadline 16:00 CET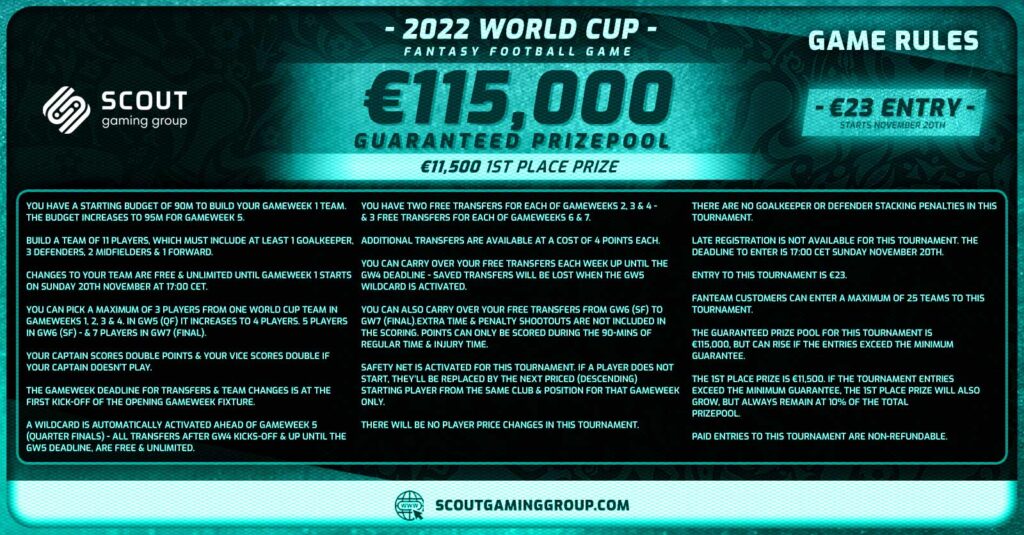 Satellite Tournaments
The tournament was opened Wednesday, October 26th. As always, there will be various satellite contests leading up to this event.
Daily Fantasy
There will be many Daily Fantasy Tournaments, including our popular Monsters, Star Pick and Single Match contests. We will share more information about the Daily Schedule soon.